46.Handmade 'The Stunner' Martingale Greyhound Collar - Multicoloured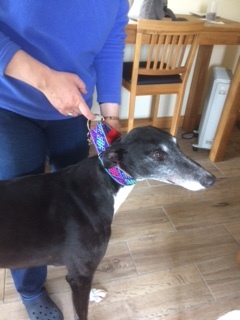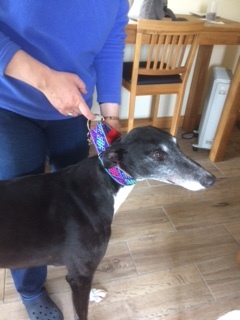 46.Handmade 'The Stunner' Martingale Greyhound Collar - Multicoloured
Handmade Martingale Greyhound Collar - 'The Stunner'
This beautiful Handmade Blue/red/green design Martingale Collar has been made with love to suit any greyhound who wants to stand out in a crowd!
This collar is a 'Special Edition' so only a few made!
The lady who make these has had over 35 years in greyhound rescue and is second to none in her expertise about the breed.
These collars and very strong and have been designed for comfort as well as safety and 'looking the part'!
All proceeds go to the greyhounds in our care - so thank you for taking the time to look, from ourselves and all the greyhounds here.
Please note another of our 'greyhound models' the lovely 'Magic' who belongs to Greyhound Compassion is 'strutting his stuff for us in some of the pics here'! Of course it is just the collar for sale, not Magic himself!!